Orlando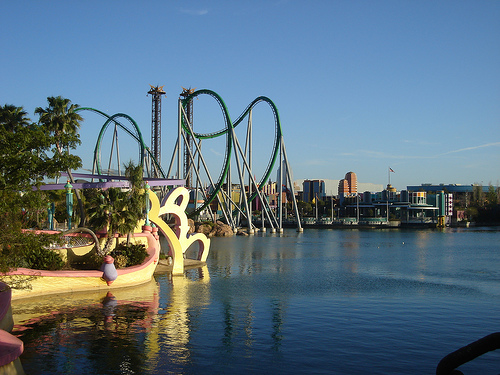 Internationally known for it's extraordinary attractions, visitors from around the globe flock to Orlando to experience the magic that is Disney in the form of Animal Kingdom, Fort Wilderness, Epcot, MGM Studios, and the park that started it all: the Magic Kingdom. Additionally there is Downtown Disney, three water parks, Pleasure Island, five championship golf courses, Disney?s Wide World of Sports complex, a racetrack and restaurants to satisfy anyone?s taste. All of these wonders have become synonymous with Orlando, and, indeed, have made the young city of Orlando the world?s most popular vacation spot.

The area enjoys year round mild weather. Orlando itself is a city of great beauty. Summer rains and the warm climate produce lush vegetation. Palm trees, pines, and oaks draped with Spanish moss provide nature?s decoration. Landscaped gardens display a profusion of flowers and exotic plants. Orlando is in the midst of central Florida?s lake country and is surrounded by numerous parks offering hiking, biking, and water sports. the whole family.

Orlando Museum of Art, Orlando Science Center, Flying Tigers Warbird Restoration Museum, and Albin Polasek Museum and Sculpture Garden are just a few of the outstanding local cultural attractions. The nationally recognized Orlando-UCF Shakespeare Festival, the Orlando Opera Company, Orlando Philharmonic, and the Southern Ballet Theatre are just a few of the seasonal favorites. Numerous other attractions are within an easy drive of Orlando, including the Disney World Resort, Sea World, Wet ?n Wild, Universal Studios, Orlando Speedworld Speedway, and others.

Dinner theaters provide a unique form of entertainment. There are a variety of venues including a Pirate adventure, Medieval Times, Arabian Nights, (complete with horses), a Dixie Stampede, and even a Sleuths? Mystery.

Shopping in the Orlando area has as much variety as the local attractions. Outlet centers and factory stores abound and offer some of the best bargains in town for everything from shoes and clothing to household appliances and fine china. Shopping areas in Orlando and Kissimmee are popular for their fun environments, such as the Disney Village Market Place and Old Town in Kissimmee.
Sporting events, concerts, theatre productions and all else that Orlando has to offer can be enjoyed by residents of The Hammock and Palm Coast area as Orlando is within a comfortable driving distance.