Jacksonville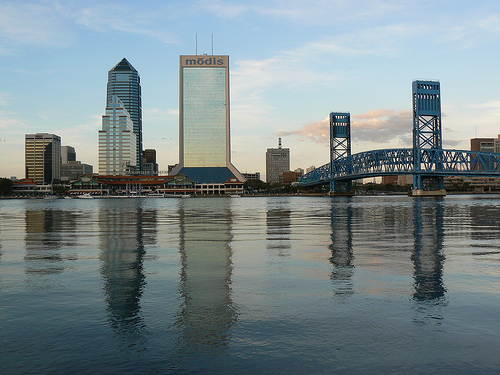 At 840 square miles, Jacksonville is the largest city in the continental United States granting endless experiences as widespread as the city itself. Opportunities abound as the region's natural beauty compliments the metropolitan skyline, and water, the most defining element in Jacksonville, provides a breathtaking front seat.
The St. Johns River, divides Downtown Jacksonville in two panoramic districts giving way to gorgeous views from riverside restaurants, nightlife hotspots, theaters and galleries. Surf, fish, swim or simply soak up the rays on over 20 miles of wide, pristine beaches along the Atlantic Ocean. Spend time kayaking, spotting wildlife and hiking in our marshes and national parks before setting sail on a Caribbean voyage from the cruise terminal...
Perhaps a different kind of recreation is what stimulates you? Retail therapy in Jacksonville is available at your fingertips from chic and trendy boutiques in historic neighborhoods to major shopping meccas. Dance under the stars at one of the many genres of music festivals held annually. Or challenge yourself on the greens at one of Northeast Florida's 72 golf courses. Sporting events reign supreme in Jacksonville, from the NFL Jacksonville Jaguars and collegiate showdowns to root, root, rooting for the hometown baseball team and rugby club. The possibility for an unforgettable experience is waiting.
Jacksonville and her beaches are located on the Atlantic Ocean of Northeast Florida. With a moderate temperature year-round, the destination is the perfect spot for a romantic getaway, family fun, meetings and conventions and anything in between. Home to numerous festivals, national and international sporting events, beautiful beaches and world-class art and culture, make our slice of Florida yours.
Because of its North Florida location, Jacksonville has a temperate climate and a delightful change of seasons not found in other Florida cities. Year-round sunshine and blue skies offer mild weather, making a visit to Jacksonville pleasant, whatever the season.
Attractions include:
Jacksonville Zoo & Gardens
St. John's Town Center
Broadway in Jacksonville
The Jacksonville Landing
Jacksonville Jaguars
Jacksonville Symphony Orchestra
Museum of Contemporary Art
Museum of Science & History
Jacksonville Ice & Sportsplex